About True Blue Toys Australia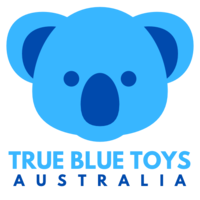 #TrueBlueToys
True Blue Toys Australia is here to provide you and your little ones with quality toys with an Australian twist. We are a Soft & Plush Toy Specialist and have a great range of Australian Animal Toys along with Toys from Classic Australian Brands like ABC Kids, Bananas in Pyjamas, Giggle & Hoot, Play School and The Wiggles. Our first range of Australian Made Toys are from Aussie Bush Toys and include Australian Animals like Koalas, Kangaroos, Wombats and Platypus.
Our aim is to have a great range of Baby, Toddler and Pre School Toys. We only work with Australian Suppliers to support Australian jobs and provide peace of mind to our customers that you are getting quality products.
While our focus is on Australian products we also sell a range of products from classic brands we all know and may have grown up with ourselves like Disney, Winnie the Pooh, Toy Story, Disney Princesses, Sesame Street, Peppa Pig, Spot the Dog, The Gruffalo, Shaun the Sheep, Beatrix Potter, Peter Rabbit, The Very Hungry Caterpillar and
more
.
#TrueBlueKids #ToysForAussieKids
Our focus is to make sure we give our little ones uniquely Australia options as they play, explore and learn.
Just like your little one we are growing all the time with new products being added almost every week. If there is a Toy you are looking for or if you have a question please don't hesitate to contact us via
support@truebluetoys.com.au
.
#BeTrueBlue
We have a great range of
Australian Made
Toys. We are always looking to stock more Australian Made, Australian Desinged and Australian Owned products. If you know of a great toy we don't stock we'd love to hear about it, you can contact us via
support@truebluetoys.com.au
.
True Blue Toys Australia was founded by Nick Westaway in late 2020 after spending 20+ years in retail working with the likes of Westfarmers, Officeworks, Woolworths and the Australian Broadcasting Corporation along with smaller retailers. Nick wanted to create his own business that provide you with access to great quality toys at a reseaonable prices that give kids in Australia and around the world the oportunity to experience their childhood in the same way we did.